Pibbs Industries is one of the world's leading manufacturers of salon, beauty and spa equipment in the world.
Get inspired to decorate

your salon or spa with the

latest decorating and design trends from

Pibbs

Industries

,

Salon Evoution

,

Skincare &

Spa,

and

Salon Ambience

Furniture Collections

.
---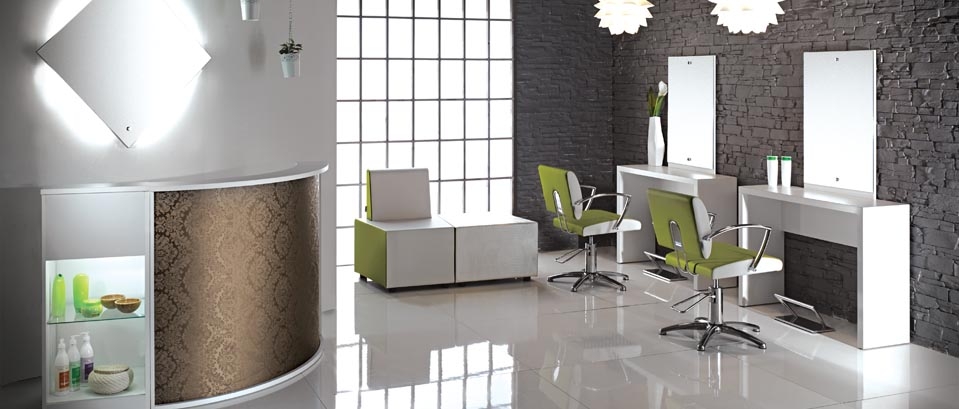 ---
Explore salonspafurniture.com and find everything you need. Innovative designs for Salons and Spas.
Check out simply and securely using a variety of methods below including, check, money order or cashier's check by mail:
You can buy online or by calling

1 (888) 465.1622

.
---

Salon Ambience SH/281-6 Leonardo Barber Chair


$

2,693.25

ON SALE


Click here for more details

Salon Ambience SH/930-22/B Nexia Comfortwash Grey Frame - White Bowl


$

1,802.25

ON SALE


Click here for more details

Salon Ambience SH/540-22/B Melissa Comfortwash Grey Frame - White Bowl


$

1,988.25

ON SALE


Click here for more details

Salon Ambience SH/310-4 Flute Styling Chair - Star Base


$

1,369.50

ON SALE


Click here for more details

Salon Ambience SH/930-4 Nexia Styling Chair - Star Base


$

1,091.25

ON SALE


Click here for more details

Salon Ambience SH/790-4/Q Quadro Styling Chair - Square Base


$

1,344.00

ON SALE


Click here for more details

Pibbs PB108 Modena Island Station-Upholstered Black


$

836.50

ON SALE


Add to shopping cart
Click here for more details

Pibbs 5237W (White Bowl) or Pibbs 5237B (Black Bowl) Pisa Backwash Unit


$

1,116.50

ON SALE


Click here for more details

Pibbs 5543W Lambada Backwash Unit with Slide System or Pibbs 5543B Black Bowl


$

1,084.30

ON SALE


Click here for more details

Pibbs 2500 Complete Skin Care System - Package Deal


$

3,286.50

ON SALE


Click here for more details

Pibbs PS92 Footsie Pedicure Spa


$

1,671.65

ON SALE


Click here for more details

Pibbs 575 Grillo Pedicure Stool


$

168.00

ON SALE


Click here for more details

Pibbs 567 Forma Pro Mini Pedi Chair


$

176.00

ON SALE


Click here for more details

Pibbs PS10 San Remo Pedicure Foot Spa


$

1,604.65

ON SALE


Click here for more details

Pibbs PS93 Footsie Pedicure Spa Chair


$

1,671.65

ON SALE


Click here for more details

Pibbs 545 Butterfly Pedicure Stool


$

184.00

ON SALE


Click here for more details

Pibbs PS88 Sorrento Pedicure Spa Chair


$

1,671.65

ON SALE


Click here for more details

Pibbs 2045 Pedicure Cart-Three Shelves


$

194.22

ON SALE


Add to shopping cart
Click here for more details

Pibbs 5274W Loop Backwash Unit or 5274B Black Bowl


$

766.50

ON SALE


Click here for more details

Pibbs 982 Ottoman Pedi Stool


$

116.22

ON SALE


Click here for more details

Pibbs PS76P Florence Pipeless Pedicure Spa


$

2,207.65

ON SALE


Click here for more details
Pibbs Industries, Salon Equipment, Spa Furniture, Pibbs, Salon Furnishings, Spa Equipment, Beauty Salon Furniture, Beauty Salon Equipment, Salon Furniture, skin care equipment, professional skin care equipment, spa skin care equipment,